The organization was founded in 1983 by two Austin physicians, Dr. M. James Moritz and Dr. Ed Stivers. Although Dr. Stivers passed away early in the history of the organization, Dr. Moritz continued as a driving force in the growth of The 100 Club.  Initially, the organization served only the immediate Austin area and was called The 100 Club of Austin, and only provided assistance to police officers.
In the early 2000s, the decision was made to expand our coverage to include a five-county region: Bastrop, Caldwell, Hays, Travis and Williamson. In 2005, we expanded service to all of our heroic first responders, including firefighters, EMS and county sheriff personnel. In 2015, we stretched our coverage to Bell County, as well.
The 100 Club of Central Texas is proud of its 30 year history and to be the recognized organization to support our first responders in their times of need. We are a 501(c)(3) non-profit, charitable organization that is funded primarily by donations and membership dues.
Founder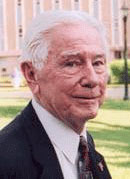 Dr. M. James Moritz was born January 1, 1923 in Port Arthur, Texas. He graduated from Thomas Jefferson High School in Port Arthur in 1940, and went on to Lamar Junior College for one year, then transferred to the University of Texas in 1942. While at UT, he met the love of his life, Dorothy (Dody) Sangalli, and they married on June 3, 1944; going on to celebrate 64 plus years or love and marriage.
While at the University, he joined the Naval Reserve. When our country was called to battle, Dr. Moritz was sent from the University of Texas to the Great Lakes Naval Training Station, then on to Notre Dame University for Officer Training School, graduating in 1943 as a Naval Ensign. In May of 1946, he was discharged, having achieved the rank of Lieutenant.
After serving his country, he attended the University of Texas Dental Branch in Houston, Texas from 1946 to 1950. Upon graduation, he began a General Dentistry practice in Port Arthur. While practicing general dentistry, he helped organize Port Arthur Savings and Loan and the Fidelity Savings and Loan. He served in the Rotary Club, the American Legion, and Veterans of Foreign Wars. He was also very active with Trinity Lutheran Church of Port Arthur, serving on many boards as well as President of the congregation and a Sunday School teacher.
Dr. Moritz held a number of executive positions. He served for many years on the State Board of Dental Examiners and was voted into the honorary American College and the International College of Dentists. Retiring from his orthodontics practice in 1989, he went on to consult and assist with the selling of dental practices across the nation. His business ventures included forming and organizing Capitol City Savings, serving as Chairman of the Board. He also was Chairman of the Board of Coastal Bank.
On top of being a member of many local and national associations, Dr. Moritz went on to found "The 100 Club of Central Texas", with the help of his loyal assistant, Mrs. Kim Wagner. This organization provides assistance to first responders who have either lost their lives or been critically injured in the line of duty. He has been honored as Chairman Emeritus and was given the Humanitarian Award of 2002. There is a scholarship fund in his name which enables first responders to continue their education.
Dr. Moritz was an avid golfer, loved fishing on the Texas Coast and could regularly be found in the stands at UT football, basketball and baseball games.
Dr. Moritz passed away in January of 2009 at the age of 89 and The 100 Club of Central Texas is proud to continue his legacy.